Blog Ambassadress
July 11, 2008
90 views
7 minute read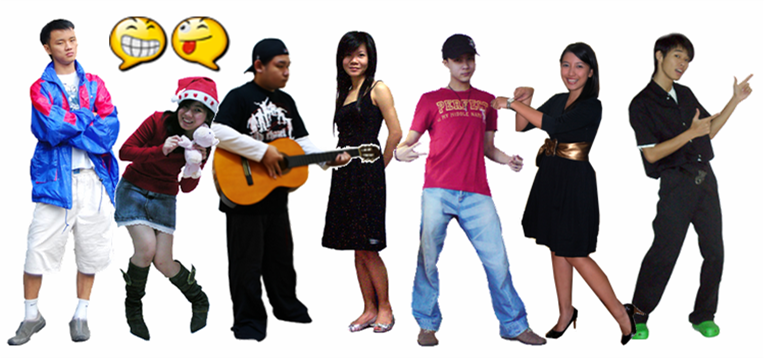 I really don't know where to begin with this post. I've been wanting to write this since last week but paiseh, I failed to start doing so because I just want itu post to be perfect. I love to free-write and just type whatever comes into my utak, but when it comes to a really composed composition (see redundant), I fail to deliver my meaning! I began writing the title and I thought of being a "Blog Ambassadress" because it sounded cool. But then again, by heart I didn't know the full definition of being an ambassadress so I searched its meaning online.
ambassadress

Definition

am?bas?sa?dress (am bas?? dris-)

noun

a woman ambassador
the wife of an ambassador
Ok ok, so it didn't really help me define my new self-declared title. The first definition well is just as obvious and vague as it can be. The second is totally not applicable! LOL! Even the dictionary is so sexist eh? Too lazy to define in the feminine side
lah
swt.
ambassador

Definition

am?bas?sa?dor (am bas?? d?r, -d?r?)

noun

the highest-ranking diplomatic representative appointed by one country or government to represent it in another

(not to this level, nope)

a special representative: an ambassador-at-large is one accredited to no particular country; an ambassador extraordinary is one on a special diplomatic mission; an ambassador plenipotentiary is one having the power to make treaties

(not either)

an official agent with a special mission

(can c an, but I'm no agent if I have no principal or if I represent someone else which is not true because I represent myself)

an unofficial representative or messenger an ambassador of goodwill

(ah.. this is the perfect definition for me)




yourdictionary.com
Most people don't know this yet, but my hobby is collecting hobbies! My latest one is blogging and I just started on May 2, 2008. My plan is to hide my identity so that I could freely write about almost anything. But oh well this social girl can't escape society.
Thursday, May 29, 2008 was the day I found ShoutOut. I was looking for cool stuff "widgets" to put in my sidebar. I searched for "widget" on Google and returned widgetbox.com to me. I browsed a couple of widgets, searched for "shout out" (because I want a chat box in my sidebar so that visitors could leave a comment) then I found this:

… and then of course, I installed…
…and then I said a random shout "Hi!", I said…
…then I was overwhelmed with banyak greetings!…
The first few orangs who were quite kind to greet me first were
Daniel, Angeline, Willaz and Lasker!
To the shouters that I have met so far,
Jane for the honest and sincere opinions,
Annafor sharing those emo taiwanese songs & for sharing the same experience of losing someone,also for sharing recipes in the future :heehee: :v:,
Sae Wei for making my SO dictionary rich and full of notorious vocabulary,
pippo for those fun chitchats that I miss since I've been missing her in SO,
elvie for always making me smile & for the entertaining posts that I love to read,
daphne for letting me call her "Daph Naph" (I think It's cute), for being a sweet babe :D, first person I saw in SO in live motion (through webcam) and for the entertaining novel hehe *wink* *wink*,
cherylyn for updating me with the latest fashion and sales =), for being my first msn buddy in SO & for inspiring me to change my boring template, also for sharing her old prom pic taken in the washroom (whoops) :v:,
Aaron@axial for having this original signature look
,
AhPaul hope you'll let me call you AP :),
aL for posting the almost naked David Beckham *faints*
,
Angeline for being my Angel 🙂 and for reminding me of my bestfriend Angeline and also for playing those songs :),
Anston KL for being a new acquaintance 🙂 visit SO more often! :),
Bell for those quick chats about her euro trip,
blurJess for sharing same passion for GossipGirl and the girltalks about those boys like dan dan dan dan :),
CharlesKey for having an eye for business :v:,
Chee Hsien for being my partner in SO model and for reminding me of my college days — just always believe in delayed gratification Chee Hsien, all those homework, study and hardwork will do pay-off eventually 🙂 trust me :),
Daniel for being the "D" that first greeted me in SO, just for being wierd enough that I can still understand, for being considerate always translating words for me :)and for being a sport when sometimes we appear to be bullying you around :v: just a gentleman indeed,
deVince not really chatted much with you but you're always there in SO :),
Dexterity not really sure if we have chatted but I liked the trance playlist you posted on shoutFM,
Emily for those random chats I hope we'd have again soon :),
firewire not much really hehe :v: but just for those casual "Hi's and Hello's",
HugoLim for visiting my page hehe :),
HungWei for believing in Social
Responsibility,
Jeannie for staying sweet and for giving me the idea of brining a picture of your ideal haircut when visiting the parlor :),
Joey for being my Vinspiration :D,
Jua for those girly chitchats I hope we'll be having again soon *stay pretty* :),
jor.wee for those wonderful movie review 🙂 thanks!,
Kim for letting me view your blog of creativeness :v:,
kxin for being a recent acquaintance,
Lasker and Elise, how can I separate you two :).. I have many to thank for.. first of all for being brillant geniuses who founded this amazing thing, to Elise specifically for letting me calm down and overcome my stage-fright-without-a-stage fear, for continually updating, monitorinng and improving SO, and just for welcoming me here wholeheartedly,
leonlee for letting me play your domain name among those I've suggested (lonelee.com, lonelee.not :), leeonline.com, leonleeleonlee.com, and voted for leonline.com and mynameisleon.com
Mac_Bone swt for how I discovered the other meaning of buaya,
mae for saying "Hi" everytime we meet in SO :),
mrinjured for that really cool light sculpture!! :),
nath, prettypink vanity is our favorite sin :D,
satkuru for posting comments and for being nice :), for being optimistic :), and forgive me for that other time I really didn't know you they call you D****g, but thanks anyway for discovering it :),
superwilson for the Hi's and Hellos :),
vingie not sure if we've met but I'd be glad if we do :),
vialentino for being a new acquaintance,
waiseng for visiting my page hehe :),
wendy for saying "Hi's" and "Hello's" these little greetings mean much to me :),
willazz for being one of the persons to greet me in SO 🙂 and for introducing me Cas Haley, and for being my morning buddy (but lately I think he's been sleeping ok already :),
william 🙂 peace :v: tha "gal" thing no biggie, I'm jz playing.. thanks for also for just being around SO and visit my page :),
wilson now I'm not sure but well Thanks also :),
xiiaO Jiro Jiro jiro, Thanks for casual greetings :),
and zhe ni for being a new acquaintance and also for translating stuff for me :heehee: I really really do appreciate…
and for pOppie, I never judged you from the beginning, I hope you could start a new leaf and change anew because I also see the good in you… despite the spams and the random arguements hehe I'm also touched when that time you said "anyone who bullies Hannah must go through me first" hehe 🙂 but I also do hope we could co-exist peacefully with the other shouters 🙂 so just chill ayt 🙂 respect each other 🙂 and also thank you for unleashing my smarthackergirl within… Let's put this skill into good use 🙂 ok? 🙂 ciao:)
THANK YOU! (hope I didn't forget anyone, if I do mail me 🙂
To the shouters I haven't met yet, SO is always there to make our world a smaller place where distance and miles are irrelevant… I'm pretty sure we'd meet soon…
… and to potential shouters, and other bloggers who'd want to be a part of this growing blogging community, it would be a pleasure to welcome you to ShoutOut.
Though I could not be physically present every time there's an outing or something, the blog posts, the pictures and the live chats with the SO family transport me to their experience as well.
To the creators of ShoutOut Lasker and Elise, and to all of Shout Out family… Thank you!
Oh, and I Zap Grabbed this page to make it immortal since I had a troublesome time overcoming my stage fright even-if-there's-no-stage fear to pose in front of the camera to be published on the world wide web for many to see.
and… I also linked penangpenang.com in my multiply blog.
and posted link also in pinoyblogosphere for my updates… hehe swt ok then 🙂
Ok, i made it longer enough than enough so I must end already
.
This is Hannah Villasis, blog ambassadress of the Philippines saying Mabuhay!
*sneak peak* – coming up next are the SO lingos! stay tuned 🙂
[ad#nuffnang] [ad#adsense]
Sign Up for Our Newsletters