Happy 5th Anniversary to FlairCandy.com!
May 1, 2013
37 views
4 minute read
It's been a great year so far 🙂 Actually, every year keeps getting better and better compared to the previous ones. Â I hope it continues to follow this pattern for the many years to come.
Quite frankly, I've been busy with online and offline things. Â I'm transitioning to a new job, moving houses, blogging, tending to my heart (lol) and many other things. Â Everyday, is a great day to fulfill a dream, and to follow my heart's beat.
I'm writing this at the restaurant Balcony of my hotel in Boracay. Â Don't be envious, you don't know how much hard work I put in to make my dreams possible. Â Sometimes I don't get to sleep enough, had to make crazy hard decisions, prioritize and sacrifice a few things to get the things that I want and need in my life. Â Yesterday, I only had 1 hr sleep in 2 straight days. Â yeah. Â It's because I'm at "work-from-gala" mode.
I'm just happy that today, May 1 Labor Day, is a holiday and i get to relax for real 🙂 Â And it's my blog's anniversary!
I just want to thank all my friends, loved ones, family and partners for making this a happy journey!
– My mom and my family (for all the support – financial and emotional)
– My Nyok friends (Mica, Jehz, Winston, Ada, Maki, Cai)
– Special mention to Jehz for still hosting my site for after 5 years
Mica and Jehz
– Special mention to Mica for being my partner in crime (figuratively speaking) for keeping my secrets and sharing with me yours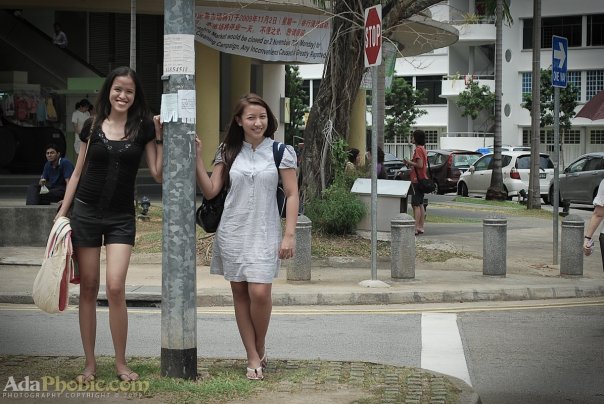 Mica and me in Singapore
– To the surfing jugettes (seriously we need to change our name) how about "Salty Sisters" (it's a real surfer term) Angela and Kristel <3 you gaiz are love .. and the rest of the Boracay team Arthur, Brian, Dell, Mark, Joel, Julius, Ada, Krissca and to the one who didn't go with us Tere.
– To my best friends in high school (Angh and Andrea) and college (Charm, Roxy and Irene)
– To the PHL 360 family for the unforgettable adventure!
– To NUFFNANG team for all the support with this blog, for giving me lots of opportunities, for the parties – to a great partnership!
– To Smart family – who has been my mobile broadband connection for years and years. Â I cannot work from gala without you… and also to the people behind Smart for always inviting me to your cool events
– To the Easy Pha-max Wheatgrass team for keeping me healthy (otherwise, I'd be sickly with my daily activities)
– To doc Yanny of Aesthetic Science
– To Digits Trading, Mel and Jeff for giving me gadgets to review
– To Air Asia for inviting me to explore the world
with Tony Fernandez CEO of Air Asia
– To Agoda.com for letting me stay in places while exploring the world
– To Vivere Salon and Nailaholics for my beauty needs
– To the Viviamo girls for the Belle de Jour organizers and BDJ boxes
– To the Jewelmer family for sharing my passion with the seas and being beautiful inside and out.
– To the Vaseline company and people behind it.
– To Expedia family (Yoshke and Jas)
– To Sofitel, Spiral and Vietura family <3
– To TV5 family, I have learned a lot and will continue to help (Ram, Leng, Sheena, Carlo, Ms. Sheila and of course the rest – too many to mention guys you know who you are)
– To Roxy PH for the awesome swim and sportswear
– To the Polecats family, for giving me the best medecine for depression and quarter-life crisis
from zero flexibility and strength – to this!
– To my pole mates – stay sexy!
– To Big Shift studios for letting me experience how it is to join a Pole competition
– To all my blog's partners
– Last but not the least, to all my READERS — seriously, what would I do without you guys… Â Thank you for participating in my contests, for commenting, for reaching out via email, for asking advice from me in terms of gadgets, health & fitness, travel, photography, love and life. Â Thank you for reaching out to me when you feel I am in my lowest of low… you keep this blog's heart beating… *emotional happy tears*
and to everyone who has held my hand, for the good things and the bad things and the many random things! Â For keeping this life interesting. Â Crazy, fun, but responsible.
Did I miss anyone? This brain of mine is not perfect 😛  But  if I did forget, let me know if I do, I'll make it up to you.
Life is all about giving and receiving 🙂 Give love, receive love. Â Give happiness, receive happiness. Â Give, what you want to receive. Â Love is such a beautiful thing <3 Â Love gives meaning to life. Â Thank you friends!
xoxo,
FlairCandy
Sign Up for Our Newsletters