The Circle Hostel – Budget Surf Trip in Zambales
March 11, 2013
146 views
4 minute read
My name is Hannah Villasis, and I am addicted to surfing. Â Check all of my surfing blog posts here.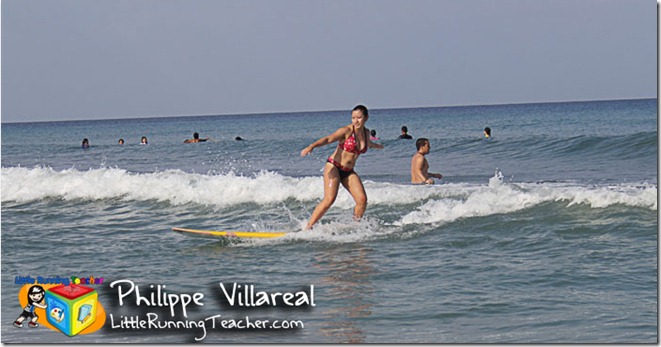 picture by Philippe Villareal and Cheryl of LittleRunningTeacher.com
There was a time when I would surf every week for 3 months. Â All my savings went to surf trips. Â It was a whole lot of fun… I WAS BROKE haha! Â I do sound like a legit addict. Â I got busy though and I had to forego surfing to earn real bucks travel and stuff.
The sea has been calling me lately. Â I do think that I'm a mermaid or a gypsy in my past life. Â I just love to travel and I love the ocean especially.
You know what, I just realized that I don't have to spend so much on surfing anymore. Â I can just drive 3 hours to Zambales, stay at a cheap hostel that fits my budget and worry about nothing else – just fun, surf, swim oh and a whole lot of art and friends!
Oh thank heavens for The Circle Hostel.
It's not your ordinary accommodation. Â Here, you don't get a fancy room with A/C, TV, fridge and all the fancy things a regular hotel room offers. Â Nope none of that. Â But let me tell you something, it was an experience that surely brought out the best in me.
 It's not your usual hotel accommodation, but it definitely has its charm!  It is ranked high on TripAdvisor as well!
Typical budget for overnight (including gas or bus fare, accom, food, etc) – P1,000!
This was my bunk bed. It was surprisingly comfortable!
I often sleep alone at my solo apartment – it was quite lovely to share this huge cabana with friends and new acquaintances!
If you're iffy about your belongings, they have a locker for you 🙂
An alternative to the luxury you get from a regular hotel accommodation is nature, art, fresh air and new friends. Â On our stay at the Circle Hostel, I didn't even get to use my gadgets! Â Poor iPad – I never touched it at all. Â It's a shame how we have so much to enjoy in this world – and they're free.
– The smile of a stranger
– The laughter of friends
– The air that we breath
– The sea that gives us a good ride
– Creativity through art and painting
– Good food
– and awareness of our body through Yoga and meditation
It's also amazing how you can create a game out of throwing a plastic disk – Ultimate Frisbee time! Â My glutes were activated so badly, they were swollen the next day – good work out! I should do this more often!
I brought my hoop to take a few videos of me hooping by the beach – just for vanity's sake really.
I can share with you my experience about this place all I want but bottom line is, you need to experience it for yourself 🙂 Â Spread and share the love!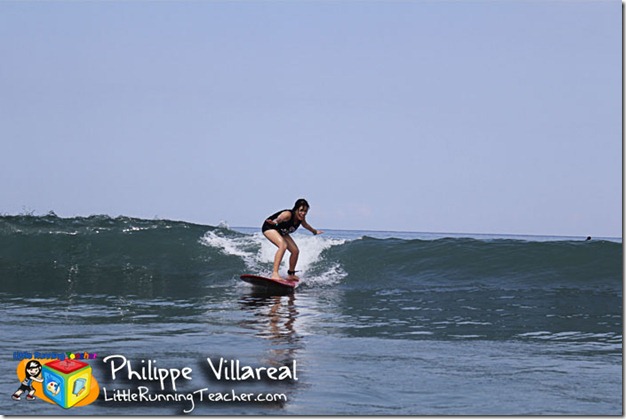 First-time surfer Cheryl got some good rides! woohoo!
The Circle Hostel Contact Details
Email: thecirclehostel@gmail.com, [email protected], [email protected]
Website: www.thecirclehostel.com
Twitter: @thecirclehostel
Cel: zambales 09178611929, la union 09178326253
Facebook: facebook.com/thecirclehostel
The Circle Hostel Directions and Location: https://www.facebook.com/thecirclehostel/notes
The Circle Hostel, Zambales Accommodations
Bunk bed: P350 / night includes bananas and toast for breakfast
Hammock: P250 / night includes bananas and toast for breakfast
The Circle Hostel, La Union Accommodations
Bunk bed: P400
Hammock: P300
Mommy Phoebe's Place, Sitio Liwliwa, San Felipe, Zambales
Contact no.: 09173200700 and 09185458007
Surfboard rentals: P200 per hour
Surf instructor: P200 per hour
His name is Garfield and he lives to the song of Bruno Mars
translated to lolcat language:
"Ohai! Todayzzzz I dun feel like doin anyyything"
"Me juz wanna layzzz in my bedzzzz!!!"
The girls are ready to surf!
\
Vanity shots by the artful rock cubes!
Okay fine! It looks better without my face in the photo!
POSERS! Â There weren't any big waves on our first day, except for some little bumps by the river mouth good enough for the beginners.
Thank you Nivea and Watsons for this awesome SPF spray! It's water proof and when you're super in a rush to get on that surf just spray away!
Easy application – especially when you need to retouch some sun protection!
Once again, thank you to Watsons PH for this Water and Sweat (coz I'm a sweaty one) resistand SPF 50 sun block!
This is best applied 20 minutes before basking in the sun.
Oh and thank you Celeteque for the awesome after-sun gel!
Everyone in the team loved using this after getting a little burn from the sun
Eli loves it so much he wants to drink it for sustenance! Crazy guy Eli >.<
Chow time!!! Our meals – homecooked with love by Mommy Phoebe's
Here's the facade of her humble canteen
This was where we had our meals because we were a big group!
Team WhenInManila!
Thank you foor the good food! Â We felt so at home 🙂
My favorite! Â I couldn't get enough of this!
I forgot to ask where they got the garlic longanisa – it was yummy!
Sunset by Liwa beach, Zambales
Thank you Sanuk for these cute designed play cards!
We had a fantastic night playing card games and random games
Thank you Raf of The Circle Hostel for hosting our games and drinks!
Here's another cute kitty from Mommy Phoebe's place.
Everyone was doing their own thing in the beach – surfing, skim boarding, swimming, chillin', frisbee, sunset photography etc…
It was quite a relaxing sight!
'Til the next surf trip!
Backpacker surfing, backpacker accommodations, Zambales, Liwliwa, Liwa, San Felipe, The Circle Hostel, Circle Hostel, Budget accommodations, hostel in zambales,
Sign Up for Our Newsletters